We started out only developing E-shops. Now we help businesses succeed across Europe
Our team
Prior to Retailys we had 9 years of experience with developing platforms for E-shops. Company founder Petr Heller led international internet shop Puzzlepoint.cz and sold his products in Germany, USA and South Korea. Thanks to his contacts from his one-year stay in Cambridge he was one of the first Czechs to visit the headquarters of world E-commerce giant Alibaba.
He gained further valuable experience this way for his international online business. He came up with the idea of a software solution for easy management of multiple E-shops in different countries, which are directly connected to online marketplaces and price comparing websites. Thus, Retailys was born.
We have successfully implemented this idea thanks to our participation in the CzechInvest program. We have won a number of awards for digital innovation in business and today our solutions are used by companies from all over the world.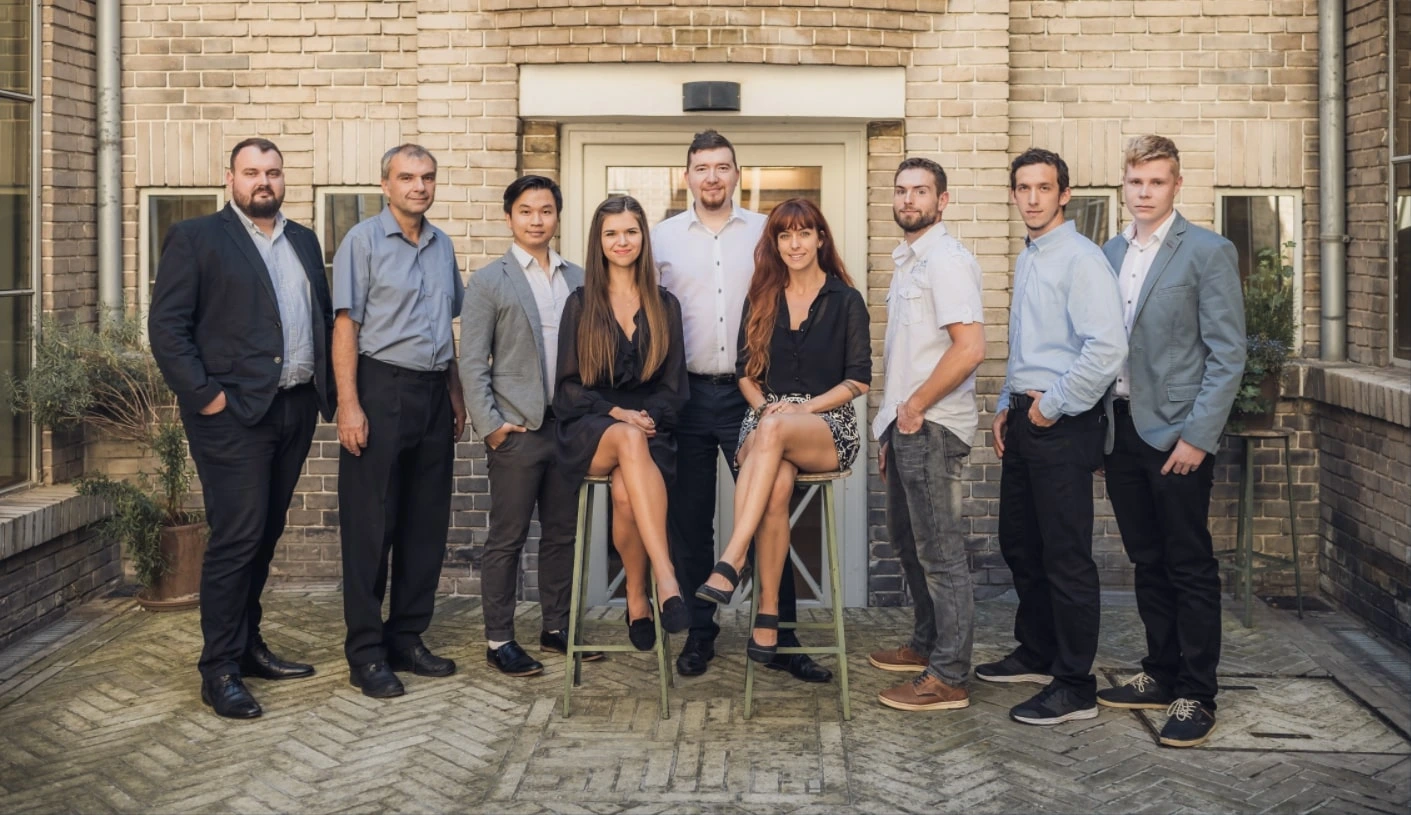 What is important to us at Retailys
Foreign expansion know-how
We are not just software developers. We know European markets and we know what works in them. We will help you with taxes, local delivery services and E-shop localization.
One tool for your entire online business
In one place you will find a database of products, sales, warehouses, and complete reports. Our system also avoids the most common problems with international expansion.
Omnichannel solution
The key advantage of Retailys is interconnecting all sales channels. With a single system you will be able to manage your E-shop and sales from branch offices, online marketplaces, and price comparing websites.
Awards and important events
Our goal is to change how people think about the cloud on a largescale.
Digital company of the year 2019
1st Place
The Year of Digital Entrepreneurship is an initiativefromthe Association of Small and Medium Sized Companies. It focuses on technological trends and prepares Czech businesses for Industry 4.0.
The initiative regularly organizes the Digital Business of the Year competition, where we scored the largest number of votes and became the Digital Business of the Year 2019!
Digitalization and Payment
2nd Place
The Digitization and Payment conference awards prizes for the development of technology in trade. In the past, for example, Mastercard has won. In 2019, Retailys ranked second for its contribution to improving the digitization of businesses.
The conference is organized by the Association for Electronic Commerce (APEK), the Confederation of Trade and Tourism (SOCR) and the Association of Small and Medium-sized Enterprises (AMSP).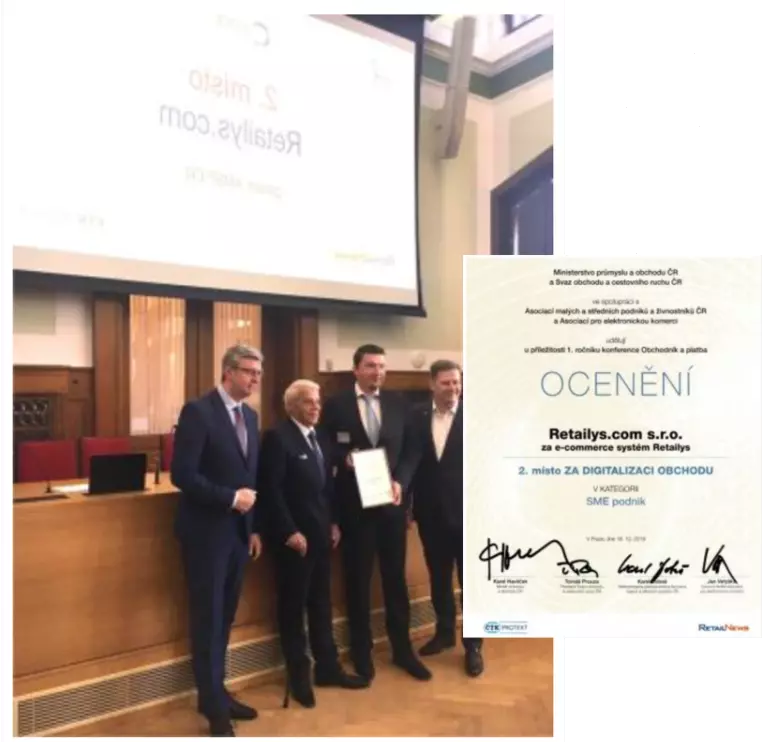 When Corporate CEOs meet Startup Founders
Finalist
Microsoft held a competition "When Corporate CEOs meet Startup Founders", which connects corporations and startups. Retailys reached the finals. Immediately after the competition, Microsoft became our official partner and we have established close cooperation in the field of technology development.
Other participations
In addition to awards, Retailys , as an example of Czech innovative companies, is regularly invited to participate in conferences, competitions of innovative companies, or major IT events around the world, such as:
Startup World Cup & Summit, Prague 2017
– competition of the most innovative companies from central Europe.
Unbound, London, 2018
– selection of startups with the participation of the government agency CzechInvest
Seedstars, Prague, 2018
– finalist in the national round of the most innovative young IT businesses from the Czech Republic
CzechMatch, Singapore, 2018
– competition of well-known start-ups in Singapore. Retailys finished second
National University of Singapore, Singapore, 2018
CzechTrade – Business Seminar in Singapore, Prague, 2018
Slush Tokyo, Japonsko, 2019
– Introduction of the highest invoicing companies from the Czech Republic at the fair in Japan
StartUp Nation, Thajsko, 2019
– personal invitation for Retailys from the Ambassador of Thailand Ureetat Chareontoh to a performance in Thailand
RutaN, Medellín, Colombia, 2019
– invitation from the innovative center in Medellín, where Retailys presented E-commerce in the Czech Republic
Official visit to the Alibaba company, Hangzhou, China, 2019
– with the participation of the Speaker of the Chamber of Deputies of the Parliament, Retailys was invited to introduce Alibaba at its headquarters in the Chinese city of Hangzhou and the possibilities of technological interconnection of these two e-commerce platforms were discussed.
Join our team
We help companies succeed in European markets. Does it sound like your kind of challenge? Send us your CV.
We are seeking new colleagues for our offices in Prague and Klatovy. A unique opportunity in international E-commerce, a comfortable work environment, and a team of easy-going people is awaiting you.
Open Positions